Cricket is one of the popular games which is played worldwide. There are many forms of cricket like big bash, Indian premier league or World cup. But that won't stop developers to create appealing and compelling cricket android games for the fans all around the world.
We have listed some of the best cricket games for android which you should install on your device right away.
Top 6 Cricket Games for Android:
1. Stick Cricket 2 (Free/in-app purchases)
Well, this came had to be on the list. This game has been from past last 4-5 years on Play Store and still, it has a fan following.
The developer has released its other variants also for the game. Although the new versions of the stick cricket do offer various other features such as foreign tours, net practice, leagues you have to purchase them via in-app purchase.
That's why I am including the original game "Stick Cricket". The other variants of this game by the same publisher are: Stick Cricket 2, Stick Cricket Premier League and Stick Cricket Super League.
The game is simple you just have to swipe in any of the directions to swing your bat. The controls are easy and having good graphics.
You might take only 20-30 minutes max to get hang of this game and you would be master in it and would be playing at medium level. I don't know why but hitting shots in 2 overs or 5 over matches makes you feel delighted!
The game is available free of cost on Play Store as well as Apple's App Store. I have been playing this game from the last 2+ years on and off.
What more? in this variant also you can match up with your friends via Bluetooth connectivity!
Pros
Small in Size
Multiplayer(Bluetooth)
Easy learning curve
awesome controls
Cons
1.Important features like Bluetooth connectivity via in-app purchase
2. You would be bored after 5-10 matches as it would become repetitive if you master this game very soon
This game on Play Store has a 4.5-star rating from 1 lakh 44 thousand plus gamers!
2
. Beach Cricket (Free/in-app ads)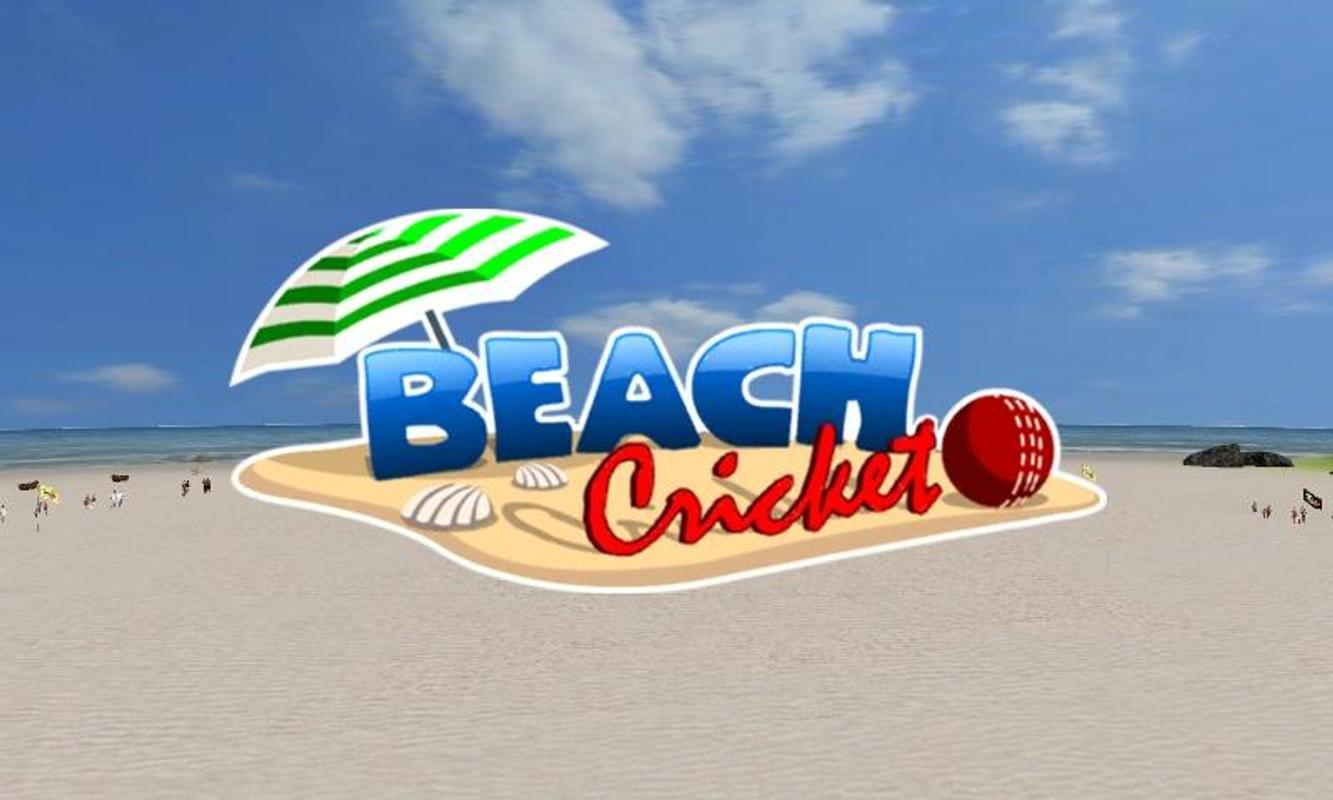 Have you ever played on the beach? No? Tension not! this game realizes your dream to play cricket on the beach! The game offers two types of terrain to play on. one is sand and other normal green pitch.
So when I was hunting down for more new cricket games on Play Store I stumble upon this. The game menu is designed simply even if you go to controls page its just one page stating the same.
You can play a minimum of 5 overs match and a maximum of 30 overs match. There are two teams whichever you can choose you to want. Toss is done like Stick Cricket.
I found Stick Crickets controls better than this but the overall environment, sounds and theme of the game was much better in this.
Pros
Beach stadium(oh common! all games are in a proper stadium)
Small in size
More technical than Stick Cricket according to me.
can be played on Android OS 2.0 or above(btw who uses Android OS 2 now? but still good for those who are using a low version of android)
Cons
1.In-Game Ads! (that too on the top of the screen!)
2. Only two terrains, you would be bored soon
3. Ad after every 1-2 over! (SERIOUSLY?!!)
I am just putting this game on this list as its concept is what I liked that's all. If developers of this game are reading this article. Please remove ads after every 2 overs finish! Rest is fine!
3.
World Cricket Championship 2
This game would be one of the most famous games in the list of this series as the Developer behind it which is Nextwave Multimedia has done a great job in advertising of this game.
If you search Cricket games on Google Play, This game secures the top position via ads and also via ranking of total ratings from the users. The Game has won many awards too.
Features:-
140 different batting animations
14 different bowling actions
Rain Interruption, D/L Method
18 international teams, 10 domestic teams.
Challenge A Friend mode.
Over 40+ in-game camera angles
And much more. This is one of the cricket games where you want the full feel of the game. The game has 4.5+ stars rating from 2k lakhs + Gamers.
4
. World Cricket Championship (Free)
This game again is from the developers of the above game. The game has awesome graphics and is far better than Stick Cricket and beach cricket.
The developer boasts the slo-mo replays of the game when you hit boundaries.
Some of the game highlights are:-
Play the pack of three of the most electrifying cricket games in the world:
– World Cricket Championship
– World Premier League
– Super Fantasy Cricket League
The Game has 4.5+ stars Review from more than 2 lakh gamers on Android Devices.
Are people can't be wrong? I Guess 🙂
5.
Real Cricket 2017 (Free)
If you are talking about a jack of all trades Cricket game than its Real Cricket 2017. This far-by is the best cricket game I have ever played on any Smartphone.
So let me Give you one of those features lists which I liked the most
ALL NEW MULTIPLAYER
PREMIER LEAGUE AUCTIONS
INCLUDES TEST MATCH
CHAMPIONS CUP
UNIQUE AND NOVEL REAL CRICKET CHALLENGE MODE & DAILY CHALLENGES
ALL MAJOR T20 DOMESTIC TOURNAMENTS
Yes, This is the actual game, any cricket fan would ever want! It has everything from Domestic tournaments to Online gameplay. Do take part in auctions they are so awesome.
The game also offers Cricket Quiz within the game which you can enjoy. You have to increase your player stats and level to be good at your game.
The game also has branded bats which you can buy and play with your player. In total its one of the best Cricket game you can get on Play Store.
Rated 4.5+ stars by more than 6 lakh players it's one game to watch out for!
So, guys, this was the list of best games of Cricket Genre. Do let us know if you have any other game in your list and we would definitely put it in this list!
6

. Real Cricket 19
Real Cricket 19 has a lot of improvement and updates. It has got real-time multiplayer, so create your own cricket team and compete with other players. You can invite other players for the match.
If you compare real cricket 19 with real cricket 18 there are a lot of change has been made. There are 15 new bowling actions, new stadium, upgraded graphics, jerseys have are new and lots more.